PhotoBioModulation Therapy in London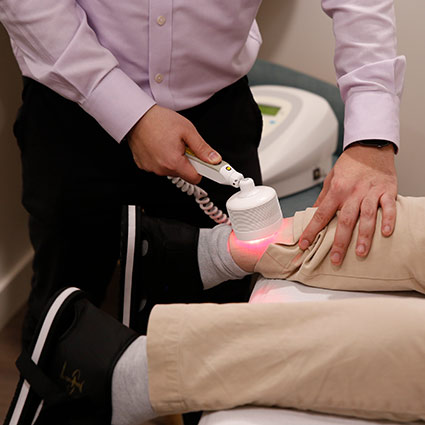 When you're experiencing accelerating pain, you need comprehensive care right away. In addition to chiropractic adjustments, we offer PhotoBioModulation Laser Therapy and no-needle laser acupuncture so you can heal better. Our comprehensive approach to care offers a fuller recovery, as we activate the body's natural healing processes from every angle.
PhotoBioModulation Laser Therapy employs non-thermal laser light to stimulate the natural healing processes of the body safely and effectively. This treatment has been used for over 40 years globally and is available in the medical field for treating pain, wound healing and musculoskeletal conditions in a wide group of patients.
Charging Your Cells With Energy
Therapeutic light is an important tool in caring for pain and injury. It has been shown to help with anti-inflammation, alleviate pain, regeneration, circulation-improving, and reduce the swelling effect.
This therapy works by giving energy to the cells so they can restore their normal function. Certain wavelengths, power and pulse rate of light stimulate your cells to function better. This leads to an increased healing growth factor in the tissues, endorphin release, and healing.
This service is especially beneficial for chronic conditions, pain relief and wound care.
Speeding Up Healing Through Combined Techniques
We use visible red light and invisible infrared together with chiropractic care. While realignment can do amazing things, it has some limitations. Adjustments improve your body's structure, taking pressure off the joints and nervous system, but they can't target the cellular level as lasers can.
Laser therapy provides targeted and effective pain relief by boosting soft tissue recovery. By sticking with your care plan, you'll experience holistic health as we help the joints, nerves, muscles, and ligaments heal simultaneously. Laser therapy achieves improved outcomes for sports injuries, plantar fasciitis (heel pain), epicondylitis (tennis elbow), Achilles tendonitis, acute/chronic pain, adhesions, rheumatoid and osteoarthritis, chronic oedema, fracture healing and many more.
Additionally, our laser acupuncture offers advantages and benefits combined with effects that are comparable with classic metal needle acupuncture techniques.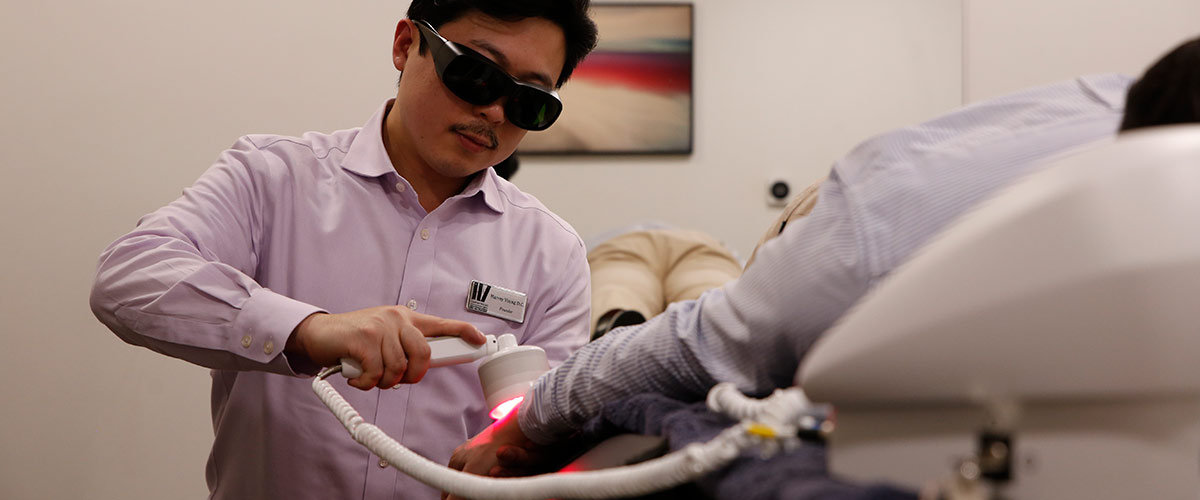 What to Expect
Harvey Young uses a soft, non-thermal laser. We always start with a careful assessment to rule out contraindications and make sure you're a good candidate for this therapy.
There's no special paperwork to fill out in advance. We'll take care of everything during your initial consultation. Most appointments take 30 minutes for an adjustment combined with PhotoBioModulation Laser Therapy. Occasionally, patients with extensive injuries or other issues may require longer visits to accomplish targeted healing.
The laser probes need to directly touch the skin of the affected area. We recommend wearing something loose that either leaves that area uncovered or is easy to take off.
Speed up Your Recovery Today
At Harvey Young Advanced Holistic Therapy, we'll do whatever it takes to invest in your healing. Schedule your first appointment now so you can start focusing on what you love again.
CONTACT US

Photobiomodulation Therapy Soho, Liverpool Street | +44 (0) 20 7193 6272